Personal Blog: If Only Life Was Like A TVB Love Story
Sometimes life can be hard on you, and it can be easy on you. And just when you think you have it all figured out it shows you that you have no idea.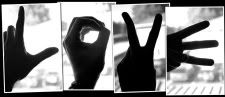 If only life was easy, and simple as a TVB love story.

If so, then...
You would start your day with a lovely themesong,
Run into the love of your life on your way to work,
Have great time at work with some of your best friends,
On your way home it rains but your handsome love suddenly comes to your aid with an umbrella,
Come home to a warm family living in Harmony.
Of course run into small problems that resolves itself within 3 episodes,
The only problem in your love life is two amazing guys are fighting over you,
Have something amazing happens that change the course of your for the better,
You in the end choosing the right guy and get engaged,
Have a happy ending with the man of your dream.

Sadly, not all TVB love stories are like this so the chance that your life will be like this are slim. As a matter of fact TVB made a series that refelcted my current sentiments called Slim Chances. I think if time permits I would like to rewatch it because I think I would really appreciate it now.

Since there is no website where you can get your "Life" episode summary I guess I'm offf on my own.

Haven't been online for the last couple of days because of the usual so I'm catching up on things. I'm very sorry that I couldn't update, hope you understand.

By The Way, for people living in the U.S. who are taking High School A.P. classes, AP Exams are next week & the week after that. I'm studying myself and I want to wish all of you the best of luck! Also good luck with your final exams everyone!

-With Love, Asia.
Labels: Random