"TVB-G Recasting": The Simpsons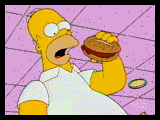 The Simpsons Recasted:

I grew up watching The Simpsons and TVB, and I'm sure alot of you guys also watch The Simpsons. I decided to combine these two favorites of mine into something I hope would be interesting. I put alot of thoughts into the recasting, and I finally recasted them & brought them into the flesh. Since Bart, Lisa, & Maggie all seem never age on the show, I paired them with older paradies of each other just for fun.

Homer Simpson-Bobby Au-Yeung: This was a no brainer, alot of you guys problaly predicted this. They both look alot alike, strange since Homer is only an animation, but they is definitely is a resemblance. If Homer ever came to life as an asian guy, he would look like Bobby. Besides that, they both have such an awsome sense of humor. They both make me laugh, and both carry what we call a likability factor.




Marge Simpson-Kenix Kwok: Dont ask me why, but Kenix remind me so much of Marge. Its really strange, whenever I think of Marge being a strict, and overprotective mother I think of Kenix. I guess its because of her role in Ten Brothers, she was a very adoring mother. They also give off the same persona, and appearance wize they do kinda look like paradies of each other.




Bart Simpson-Bosco Wong: Another no brainer, I think Bosco fits Bart's personality perfectly, and is definitely ready to tackle this recasted role right on. Bart is kind of a menace, but still has a sweet & lovable loveable side. That's the same way I feel about Bosco, but just less of a menace, just very playful. Looking at Bart & him at an angle they look alike also, goofy & cute.




Lisa Simpson-Leila Tong: Lisa is very cute, intelligent & loveable, so I added them up. CUTE+INTELLIGENT+LOVEABLE= Leila Tong! Lisa and Leila is another perfect match that I was proud of, there's not much more to say about this because its so straight forward. This parody was very ideal to me, both represents such a likeable character, and Leila just gives of the exact same persona.




Maggie Simpson-Tiffany Tse: Tiffany Tse has appeared in a couple series now, and alot of problaly recognize her. I think she is absolutely adorable. Maggie Simpson has alway been one of the cutest animated babies I've seen. Viewers learn alot about even if she doesnt talk much, same way with Tiffany. She has little air time and lines, but when you see her she puts a smile on your face.