Newcomer Disclaimer: The Mr. Hong Kong Runner Ups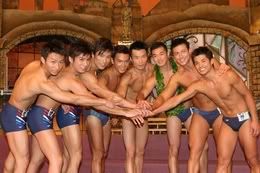 Intro:
TVB launched their first male "contest" in 2004. TVB unlike ATV didn't called a pageant, but made it a competion based on popularity voting, talents, and looks. The show has been pick up for a second year to live alongside the MHK pageant. Using the show, TVB found some great talents. Matthew Ko was the winner so TVB Generation will save his feature for another day. TVB however found these men who are all going to get promoted so get used to seeing them. For decades TVB have found female artistes with the MHK pageant, but now male artsites have an equal opportunity to get discover.

You're In! :
The picture below show the runner ups that passed their screen test to become a TVB artsite.


In-Depth: ( From Left To Right )

Billy Kong:

During the time competion he was one of the hot favorites to win the title. In a K-100 interview at the time, Natalie Tong report that he won an online poll being most photogenic at Mingpao's website, but its no big suprise since he has modeling experience. Promoted problaly because he is bilingual with English and Cantonese since he grew up in Canada.



Stephen Wong: Stephen is described to have "electric eyes" which made him stand out. Stephen is able to speak French fluently and Cantonese somewhat fluently because he grew up in France. He is however not able to read chinese, so his future still kind of gray even though passed his screen test. TVB has faith in him to pick up Cantonese reading because they have plans for him.



Byron Pang:

The shortest of all the contestants at 5'4, just meeting the minimal female requirement. He initially failed his screen test because of it but TVB gave him a chance because he has a good personality. He is skill in karate so ancient martial art series will suit him best. Very cute so he will definitely appeal to younger fans.

Rocky Cheng: The oldest of all the contestant at 37 years old. He is was one of the favorite because of his musclular body. He is half caucasian and asian but takes pride in being asian more. He is said to be pursuing an acting career, but age might come in the way. Not only that he already has a wife and kids, so time might play a factor also since he has to spend time with them.

Josh Wong: Josh Wong was the hot favorite to win since he already won the first award for most stylish hair, but was eliminated early in the show. He also said that he wants to pursue an acting career with TVB and hope it takes him places. He is also very athletic so he was dubbed as another Alex Fong Lik Sun.

Here are the contestants in the same order early on in the contest. They are also featured in your TVB calendar. You all might be seeing these faces alot in the future.