Special Feature Part I: Diamonds In The Rough
The Diamond Tiarra, Tavia: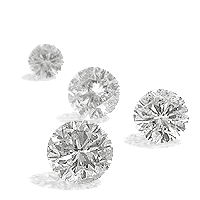 The expression diamond in the rough is use to describe someone who works hard from a low status that is rough to getting attention from everyone by bedazzling them with the hidden sparkles. Tavia fits this decsribtion perfectly, she worked very hard to get to where she is today. She took the difficult route into the industry the TVB 13th Acting Academy which meant she had to work her way up from the bottom with the extras. This should be commended because pretty girls like her usually take the easy way by entering into pageants like MHK or MCI to get publicity and lauch their career with stable support. After the rain comes the sunshine and she has been shining bright, already winning the most improve award in 2003, in only her fourth year in the circle starting in 1999. her success is still going strong despite some bumpy stops along the road like earlier in the year a reporter doing an article saying Tavia she has a boring personality. This did not even get to her at all, if anything it made her more focus. She hasnt yet received a leading female role, but nobody knows what future may bring. 2006 might bring a leading role that is a breakout like Yu Fei and put her on the leading ladies map. For one thing Tavia has shown us all that you dont need to win a pageant to have and be a Diamond Tiarra.